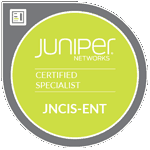 If you are an IT Professional wishing to become a Network Engineer, Juniper Network Certified Internetwork Associate certification is the best way to start. It is an entry-level certification that leads you to the path of becoming a network engineer that specializes in areas such as routing and switching, security or cloud networks.
This JUNOS Associate course path leads to other certifications in specific areas such as Specialist, Professional and Expert level. Once you have started to build your foundational knowledge in Juniper Network, you can continue your training and construct your networking skills the likes of which others have never seen before.
Juniper Network Certified Internetwork Associate certification is an excellent path to take that can help grow your career and gain access to many more job IT opportunities.
CNCTC will ensure you receive real hands on experience and helps you enhance your Network skills and knowledge for the preparation of JUNOS Associate certification so that participants can easily get jobs in IT companies.
CNCTC is committed to do everything as much as possible to progress every learner that completes the short course program. We aim to meet the individual needs so we can help you in getting your chosen career path.
Start today and become expert in JUNIPER Network, we will gladly assist you!
[crp]