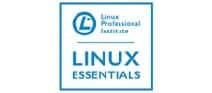 This course upgrades your skills in Linux Network Administration. You will learn the Basic Linux Essentials all the way to advance Linux setup, installation, configuration, Security and network troubleshooting.
This Linux Training course is well-suited for individuals seeking to become expert in administering a Linux Network and to those looking to pass the Linux Certifications offered by LPIC or RedHat.
The training is conducted in Face to face classroom or Instructor-Led Live Online training. Emphasis is given more on hands-on actual training with enough amount of time for discussions.
Our Linux course outline starts from scratch. You will build the Linux network from zero going all the way up to setting up the Linux environment, configuring and administering all essential Linux services.
Checkout our Linux Training courses below.