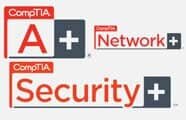 Are you a fresh graduate having a hard time landing a job?
An IT professional who wants to upgrade their IT skillsets?
If you want quality training but budget friendly, see this!
DISCOUNTS ARE LIMITED! 10% UP TO 30% DISCOUNT!!
Not enough?
We even offer installment, pay every time you go to class!
Start a course for as low as 6,500
HANDS-ON TRAINING, INSTRUCTOR-LED. We do not just teach the theory but we let students try it themselves (Hands-On).
We assure you that you'll be leaving our training rooms with overflowing knowledge (besides our overflowing free coffee) 😍
-We will share to you the best trade secrets on your proffered course. (Advantage against other applicants)
Want more?
-We value flexibility and offers several available schedules based on your preference!
-We are Tesda Registered and have helped thousands of enrollees land a job after training with us.
INTERESTED?
Contact US!
Tel. Nos. (02) 8736-2032 / 8736-5196 / 310-6011
SMART: 09993302327 / 09993303154
GLOBE: 09776932557 / 09776932556
Our E-Mail: cnctcinc@yahoo.com
[crp]