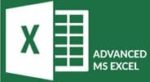 Microsoft Excel is used by almost every organization and by most individuals but many of us only know the basic elements and very few are proficient in Advanced MS Excel programs.
Why should you go for this course? Basically, MS Excel is a spreadsheet tool that allows us to manage a large amount of data with the help of Advanced Excel functions such as calculation, graphing, pivot tables and many more features. This application tool is very helpful for the overall growth development in the current business market.
For Learners who want to start a career in spreadsheet applications, Advanced MS Excel is precisely recommended. This course will help in career enhancement by achieving high performance that will be beneficial in personal and professional growth. Moreover, you can enhance your Excel skills to perform your work effortlessly and contribute more to the respective company.
Apart from this, you will get job opportunities in different sector and this is what will help you grow that gives the advantage of working quickly and smoothly.
CNCTC is the most prominent and trustworthy training that has been providing Advance MS Excel to aspirant individuals for so many years. We invite you to look at our class and get yourself educated about Advanced MS Excel that surely quite helpful and it has the power to make you stand out. With this training, we can provide you proper guidance of all the tricks to complete the task more effectively and easily.
[crp]