CompTIA CySA+ Bootcamp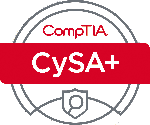 Key Features
5 days Instructor-Led Live Online Classroom
Live Webex Virtual Class in Learning Management System
Access to Remote Lab PC for Hands-On activities
Unlimited Practice exams
In-House CompTIA CySA+ Testing Facility
Integrated Courseware in the Learning Management System
Step by Step guide for challenging hands-on lab activities
Flexible Schedules – Both Weekdays and Weekends Classes
Get Trained by CompTIA CySA+ Certified Expert Trainer with Over 15 Years of Industry Experience
No. 1 Training Center for CompTIA CySA+ Courses
E-learning Access for Pre-course and Post Training Support
Best Price Guaranteed for CompTIA CySA+ Courses
Key Features
5 days Instructor-Led Face to Face Classroom training
We are a TESDA Registered Training Center
Offering Flexible Schedules – Both Weekdays and Weekends Classes
Get Trained by CompTIA CySA+Certified Expert Instructor with Over 15 Years of Industry Experience
In-House CompTIA CySA+ Testing Facility
No. 1 Training Center for CompTIA CySA+ Courses
We Guarantee Best Price for CompTIA CySA+ Courses
Key Features
Gain the technical skills needed in the workplace. 1 on 1 training is the best way to learn
Quickest way to master any of our course offerings.
Experience superb hands-on laboratory activities and unobstructed attention from your trainer.
Guaranteed to start the Training
This course will equip you with the skills needed to manage cybersecurity risks, identify various types of common threats, evaluate an organization's security, collect and analyze cybersecurity intelligence, and handle incidents as they occur. This is a comprehensive course on security aimed toward those on the front lines of defense. It covers the foundational understanding of threat management practices and prepares you for the Threat and Vulnerability Management of your organization's network infrastructure.
WHAT YOU'LL LEARN
Assess and respond to security threats and operate a systems and network security analysis platform.
Assess information security risk in computing and network environments.
Analyze reconnaissance threats to computing and network environments.
Analyze attacks on computing and network environments.
Analyze post-attack techniques on computing and network environments.
Implement a vulnerability management program.
Collect cybersecurity intelligence.
Analyze data collected from security and event logs.
Perform active analysis on assets and networks.
Respond to cybersecurity incidents.
Investigate cybersecurity incidents.
Address security issues with the organization's technology architecture.
WHO SHOULD ATTEND
Individuals seeking to become a Cybersecurity Analyst and looking to pass the CySA+ Exams. It is ideal for organizations looking to secure their Network data and applications.
PREREQUISITES
Network+, Security+, or equivalent knowledge
3-4 years of hands-on information security or related experience
CERTIFICATION EXAMS:
CS0-002: CompTIA Cybersecurity Analyst (CySA+) Certification Exam = USD 207
EMPLOYMENT OBJECTIVES
Upon completion of the course, students will be qualified to be a:
CyberSecurity Analyst
Security Engineer
CompTIA CySA+ Syllabus
Chapter 1: Importance of Security Controls and Security Intelligence
Chapter 2: Threat Data and Intelligence
Chapter 3: Analyzing Security Monitoring Data
Chapter 4: Collecting and Querying Security Monitoring Data
Chapter 5: Utilizing Digital Forensics and Indicator Analysis Techniques
Chapter 6: Applying Incident Response Procedures
Chapter 7: Applying Risk Mitigation and Security Frameworks
Chapter 8: Performing Vulnerability Management
Chapter 9: Applying Security Solutions for Infrastructure Management
Chapter 10: Understanding Data Privacy and Protection
Chapter 11: Applying Security Solutions for Software Assurance
Chapter 12: Applying Security Solutions for Cloud and Automation
COURSE FEE
(₱18500) ₱ 14800
(USD385]) USD308
COURSE SCHEDULES

Call Us for more information
Tel: (+632) 8285-2936 / (+632) 8736-2032
Smart: 09073576583 / 09993302327
Globe: 09776468236 / 09776932556
GET STARTED
Request Course Quotation
Take advantage of CNCTC 's latest interactive Instructor-Led Live Online Training. Online Courses are delivered using WebEx to bring the classroom to your home or at your workplace and can be accessed directly on your own computer with an internet connection. By using Cisco's WebEx, and integrating our Computer lab facilities, we can provide a near-classroom experience remotely to your own location of choice. Register Now!